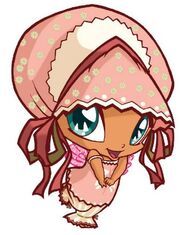 Piff is the pixie of dreams. She is only a baby and she sleeps most of the time. She is bonded with Aisha/Layla since Aisha/Layla Often has bad dreams. She speaks in a baby language that has to be translated by Digit or Chatta. At first she doesn't know how to fly, so Aisha/Layla had to carry her. She learns how to fly eventually. 
Appearance
Edit
Piff has tan skin, with light green eyes. She wears a light pink shirt with cream-colored pants. She also wears a light pink bonnet with cream-colored spots. Her wings are bright pink.
Winx Club
Edit
Piff was not featured in Season 1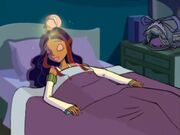 In Aisha/Layla's first try to save the pixies Piff was the only one she could save. Aisha/Layla had to carry her because she didn't know how to fly. Piff stayed in Alfea when Bloom, Stella, and Aisha/Layla went to save the other pixies. Once she saw Aisha/Layla having a nightmare, she used her power to end Aisha/Layla's nightmare, thus calm her down. It was also said the fortune flyer to bloomin winx club season 2 long flowing hair and a sleepy baby pixie, The sleepy baby pixie referring to Piff.
Piff accompanied with the rest of the pixies as usual. Once when the Winx had to sneak away, Stella used a spell to turn the Pixies into the Winx. She turned Piff into Stella. Piff woke up when she was in Stella's form, she wandered off while the Winx and the pixies weren't looking. Grazelda found her and caught the Winx. In the Nick Dub in this season 3 piff seemed to be spending time with Timmy AKA Tecna Boyfriend.
In Season 4 Piff is seen a few times in this season, first when the Winx have to go to Pixie Villige to find the tree of life in a quest to find the last fairy of earth. She is also seen when the flower bud Bloom along with the other pixies.
Piff is not not seen in season 5.
Piff is seen in season 6 in her pop pixie form along with the other pixies in season 6 episode 2. She was at the party eating bread and the other pixies were there too. She also fought the trolls in pixie village intil she got trapped in Selina legandaruim along with the other pixies besides Lockette.
Italy - Domitilla D' Amico
USA - Georgina Cordova (Nickelodeon)